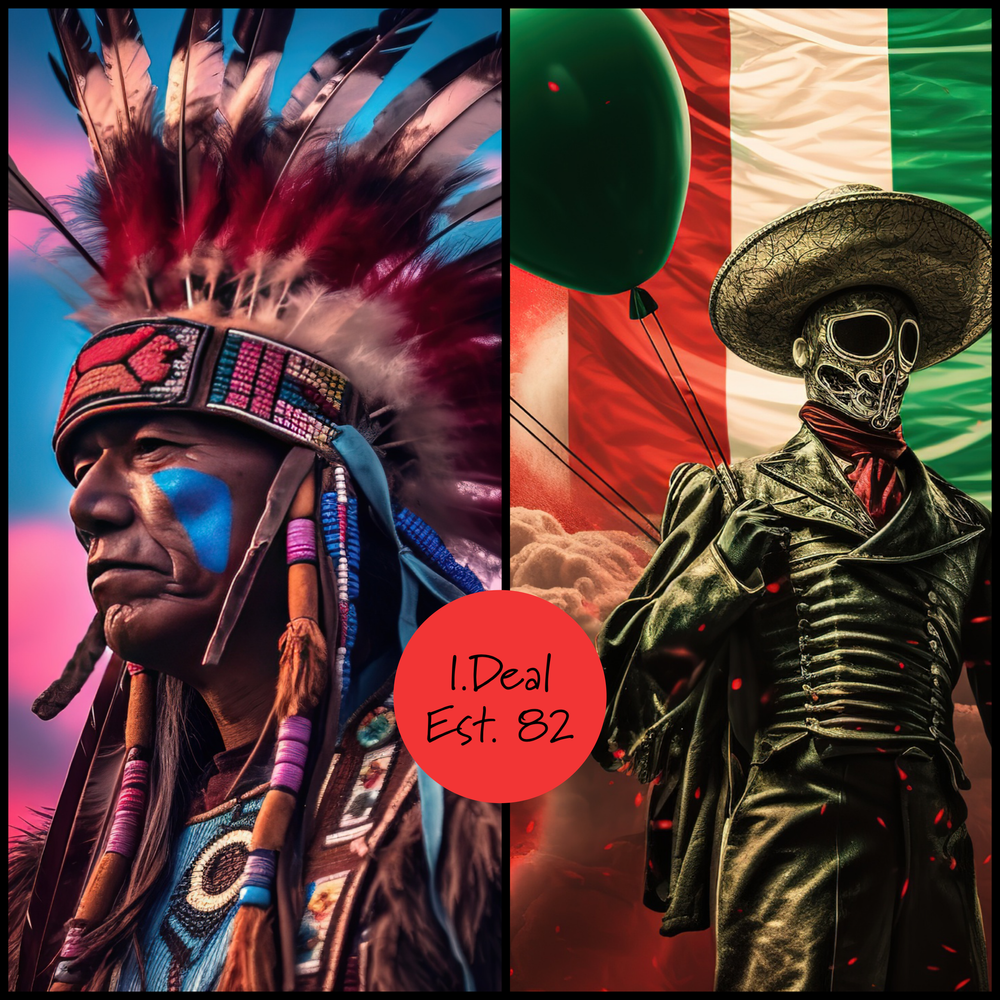 I am Chi-Native
Proud Diné Navajo / Mexican - "yá'at'ééh" / "hola"
CLICK BELOW;
I.DEAL ON SOCIALS
YOU TUBE PAGE: IDEALRAPS
ALL MAJOR STREAMING PLATFORMS SEARCH:
IDEALRAPS
About I.Deal
What's up to everyone new here and just checking in, my name is I.Deal and music has been a huge part of my life for many moons now and I continue to make music because it's truly what I love to do. I'm here doing my best daily, continuing to dream big and all I want to say is - thank you!  I am still here, still doing what I love to do and reaching far more people now than I ever thought possible. I wear many hats, first I'm an emcee, I own Chi-Native Entertainment, I am a co-host and director of Chi-Native Radio as well but music has and will always be my first love. Our reach as a team has grown over the last few years with the Chi-Native name being said within many cities throughout the US and now throughout parts of Europe, Spain and Africa and again it is because of each and everyone of you who tune in, check out, subscribe, comment and watch whatever we are doing here at Chi-Native, our little tribe has grown and each of you mean a lot to us here because we wouldn't have made it this long in the game  without your support. I'm gonna keep reaching, keep pushing and as always keep smiling because I know how blessed I am to be where I am today, so again if you've logged in here, subscribed to any of our pages, watched, streamed, bought merchandise, purchased our music individually or collectively, told a friend about us or introduced your friends to my music - thank you and welcome tribe - let's keep growing together fam!
I.Deal is half American Indian (Navajo Tribe) and Mexican Hip-Hop Artist  that has been writing and recording for well over a  decade. I.Deal formed 1/2 of the group known as Native Scripts, which released their self titled debut album in 2007 through Workhorse Entertainment.
In 2008 I.Deal followed that release with the project "HERE FOR WORK MAN." The concept was derived with the idea of releasing a song per week for the masses, hence the name. The next project released by I.Deal was the mix tape in 2010 entitled, "JUST A SAMPLE." Like many of his releases there is a constant theme throughout with various projects. In 2013 we saw the release of "YOU'RE WELCOME." All of these project are available for your listening pleasures under the RELEASES tab. 2016 we saw the release of I.Deal's first debut album entitled, "BCUZ I CAN." 
I.Deal's current album is out and available everywhere titled "FelizY Guapo", the project dropped March 3rd and the album is filled with non stop beats and bars and he had a little something to get off his chest. That said, I.Deal was recognized & nominated  by The Indigenous Hip Hop Awards in British Columbia for his song "Levels - Julian" in the category of best hip hop song of the year. Per I.Deal, "what an honor and congrats to all the winners this year!" In addition I.Deal also was a top contestant in the Opening Act for 2023! I.Deal, "It was such an honor to be considered for such platforms and to be recognized for all my efforts has been so rewarding regardless if I took home the W. I could not have gotten this far again without all of you who continue to support all I do, so thank you to all those who voted daily for me." 
I.Deal has performed throughout the Chicagoland area for several years at such venues as: The Funky Buddha Lounge, Sub-T, Getz Theatre, Flat Iron Building, Cherry Red, Fiesta Cantina in Wrigleyville, Valentino's and Candela's Nightclub, Reggies Music Club, Cafe Lura, Silvies to name a few. In addition I.Deal has also done several charity events throughout the community such as, "Keep People of the Streets" fundraising event and worked with Rush University Medical Center for their annual Martin Luther King, Jr.- "Day of Service Event" for after school community programs. I.Deal has performed now at several music festivals: in NOLA at The Indie Gras Festival Feb 17th, 2017 during All Star Weekend.  The Nepali Festival in Niles, Illinois June 17th & June 18th, 2023 as well as at Drip Fest in Mendota, Illinois July 29th, 2023. 
While we know performing and connecting with your audience is crucial we here at Chi-Native also believe there is more to it than just being an entertainer/performer for your fans or crowds of people. I.Deal feels every artist should make an attempt to make some kind of positive change within his community if given the opportunity and Chi-Native Entertainment is a true indie label that has tried its best through the years to participate in several charity events by donating back to school supplies for inner city youth to performing at fundraisers to raise funds for back to school programs as well as donating toys to Toys for Tots during the Xmas holiday season.  Chi-Native and I.Deal are here to prove a force to be reckoned with, providing true hip-hop music with more than just a rhyme and a beat but a true message to transcend all boundaries and we have some fun while we are at it too!
I.DEAL has longed believed it is up to each and every one of us to do as much as we can for those in and around our community and with that said he and the team decided to do a toy drive for the Indigenous youth over at the American Indian Center in Chicago. I.DEAL being part Native American took this to heart as he too grew up going to the AIC in his youth and for those that do not know the AIC serves well over 65,000 Native Americans that live here within the Illinois region with access to education, food resources,  health services and continuing our Native traditions. This was our first toy drive event and we are happy to report we exceeded our goal of 100 toys by triple and were able to provide over two full tables with toys for those that matter the most and that is the kids.  I.Deal would like to thank all those that contributed to this cause: Chaser's Bar and Grill, Diana with  Posh, AO Promo, Jennifer Marie, Caty, Rakido, each of our family members and the whole team who contributed, again without your selflessness none of this would have been possible.  Together we do more good and can make bigger influences and change united. 
My journey is far from over - thank you all for continuing to follow me on this journey - May we all reach our mountain tops and bask in the glory of achievement! 
2023 contestant: Opening Act 2023 & Best Hip hop song of the year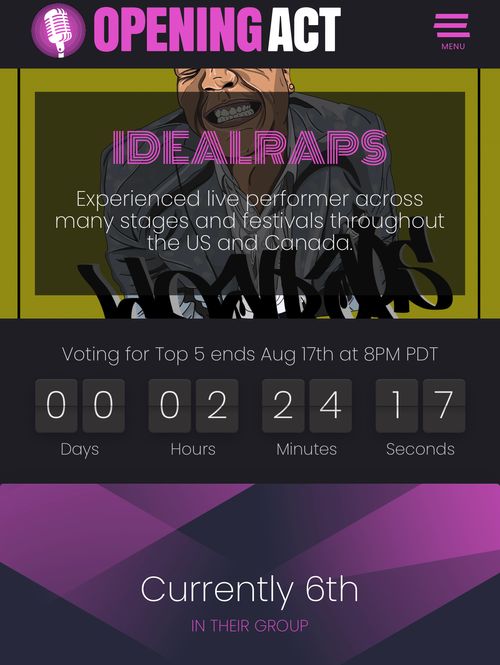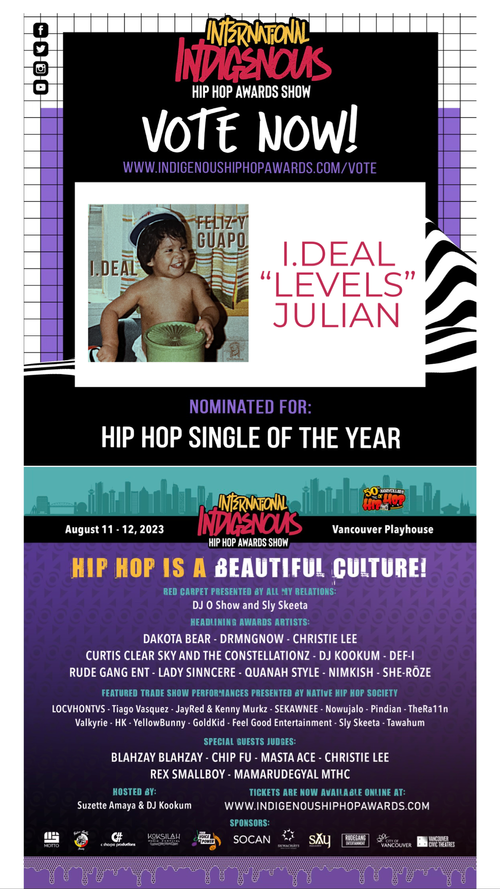 I.deal live @ drip fest July 29th, 2023